LOVE IS ALL:
ALTERNATIVE LYRICS TO "VISSI D'ARTE"
by Walter
Love is all.
There is nothing else.
I am ecstatic that this is so.
There can be no love
without forgiveness.
by Walter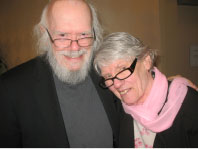 REMEMBERING THE HEAVENLY MUSIC

Growing up, my parents and I had dramatically opposed relationships. During the Depression, my father worked far out on Long Island and came home one day a week. My mother and I lived in Manhattan. My mother was something of a tyrant and demanded that I must not interact with other children. As a result, I grew up overly protected.
Both my parents were born in England. As such, my mother felt that I must attend a boy's choir school. With no idea of how social interaction functioned, I was a pariah there for four solid years.
But the music was out of this world: Mozart, Handel, The Messiah, St. Matthew's Passion, hymns that we choristers distained for being far too simple unless there was a descant, usually at Christmas, in which we could soar.
Much of the music I had forgotten until about two months ago when Bach's "Jesu, Joy of Man's Desiring" was sung at a memorial service featuring the Monmouth Civic Choir. It brought to mind much gorgeous music that I—over the years—had suppressed. One is really not supposed to enjoy a memorial service. Still, this was the high point of 2013!
by Walter