The Writing Center for Creative Aging: What We Do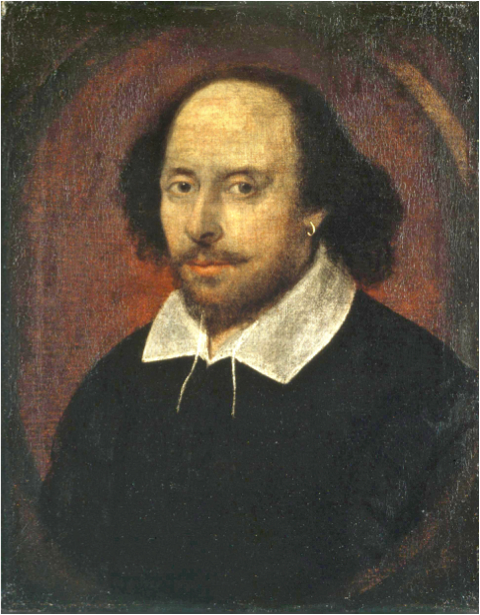 Chandos portrait of William Shakespeare
at the National Gallery, London
Programs & Workshops
What might we talk about on any given day? Here's one example:
"Now, that we've heard Shakespeare's thoughts on the matter, what is your idea of a good marriage?  
— from the WCCA Series
"Finding Your Inner Shakespeare" ©
Sonnet 116
Let me not to the marriage of true minds
Admit impediments; love is not love
Which alters when it alteration finds,
Or bends with the remover to remove.
O no, it is an ever-fixéd mark
That looks on tempests and is never shaken;
It is the star to every wand'ring bark,
Whose worth's unknown, although his height be taken.
Love's not Time's fool, though rosy lips and cheeks
Within his bending sickle's compass come;
Love alters not with his brief hours and weeks,
But bears it out even to the edge of doom.
If this be error and upon me proved,
I never writ, nor no man ever loved.
Sample poems and stories that came out of that discussion:
DON'T GO TO BED ANGRY
by Laura
Don't go to bed angry.
Whatever disagreements arise,
make sure they get discussed beforehand.
I should know: I've been married 39 years.
My husband and I never went to bed mad.
SECRET TO A HAPPY LIFE
by Catherine
The secret to a good marriage
is loving and caring for one another,
being thoughtful and
trying to make life interesting,
always being available,
making time for one another,
having children to love and care for.
My husband and I gave birth
to two wonderful boys
and two wonderful girls.
TRUE LOVE
by Frimet Wilk

Every marriage goes through
its ups and downs.
But true love endures
and makes a marriage last.
A PARTNERSHIP
by Merle Deutsch
Marriage, in many respects, is like a business partnership. The man and wife bring their own strengths; each brings something to the relationship. It's a matter of give and take. My husband Murray loved sports. I didn't. But we made beautiful partners on the dance floor.
MUTUAL RESPECT
by Dot
Mutual respect is at the foundation of any good marriage. I always respected my husband Daniel from Day One and he respected me. Daniel was always willing to help and reach out to others, no matter their circumstances, nationality, or situation. I loved him for this. We were married close to 30 years, were good role models for our children who now are all in happy marriages.
THE IMPORTANCE OF SPACE
by Marie
It's important in a marriage to give your partner some space. Try not to be all over them. Don't smother them. This was a lesson l learned by observing my parents' marriage.
MY HUSBAND, THE GENTLE GIANT
by Grace
I had a long and happy marriage that lasted 60 years. Clifford, my husband, was a very kind person. My friends called him "The Gentle Giant." He was 23 and I was 20 when we wed. He was always willing to laugh. He was kind to his children. He was a hardworking man. Even though he's gone, I still talk to him every day. He helps me find my glasses whenever I've misplaced them.
TRUE LOVE
by Mildred
I count my blessings every day—
to have my husband Leonard in my life.
How after so many years of marriage,
he still puts up with me.
FINDING MR. RIGHT, A SONNET
by Estelle Kraemer
Love was unknown to me—
When others said they found it,
I pondered and wondered what
the attraction was—physical or mental?
I was naïve for many years, until I met one guy.
We were friends for many months;
he even called my mom Mom.
And, boy, did that make her happy.
As for me—I was not sure
if what we had was friendship or love.
It wasn't until I met the next guy
that I knew that this was it—
this was the man I'd marry
and live with for the next sixty-six years.
© Estelle Kraemer
HUSBAND TO HIS BELOVED
by Isabell
What is love?
Love, as the song goes,
is a many splendored things.
I remember with pride
as you stood by my side:
What a beautiful picture you made as my bride.
This silver now crowns your hair;
I can still see the gold ringlets there.
Love's story is the same
as on that eventful day I changed your name,
when your old wedding ring was new.
Was it so very long ago?
WHAT MATTERS IN MATRIMONY
by Doris
What is the secret to a good marriage? Number one: Accept change. The person you love today will be a different person in ten years. Your husband, like yourself, will have experienced many things that will alter his opinions, his likes and dislikes, his prejudices, etc. He and you will both grow in maturity, and in different ways. Acceptance of these changes (ones, no doubt, that will irritate you) and his acceptance of changes in you is essential. Peace and joy is the universal goal (I think!).
SEEKING GUIDANCE IN MARRIAGE
by Walter
There is no tried and true formula for a good marriage. The success of a marriage varies with the age, the health, the intelligence, the pressures, the balance of the partners. The list is endless.
There are, however, a few "rules" that could prove invaluable. One is respect. Another is a sense of when some topics are appropriate and when others are not. The third, and most important, rule is seeking out God's guidance in your lives, with the recognition that God is neither male or female.
SECRET TO A GOOD MARRIAGE
by Marlyn
(I just whispered to Walt, "I'll show you my poem, if you show me yours!" Here it goes:)
Change comes. Whoosh!
Change goes.
Love stays.
Ideas flow quickly.
Ideals stay fast.
The grasses wither and turn brown.
The earth will nurture new green grass.
Petals fall from the flower yet…
fruit appears and
ripens!
You can trust change
because
the source
never
changes.